Umajin wins two Hi-Tech awards for Callaghan Innovation Best Technology Solution for the Creative Sector and the Duncan Cotterill Hi-Tech Innovative Software Product

Umajin was delighted to win two awards at the Hi-Tech event. The first was the new category of best technology solution for the creative sector. Here the ability for designers, students and creatives to build their own digital experiences without coding was the deciding factor. Then in the highly contested category of Hi-Tech innovative software product, the underlying innovation, patents and the co-branded editions being developed with partners like Intel, WPP and IBM showed the depth of the technology / solution.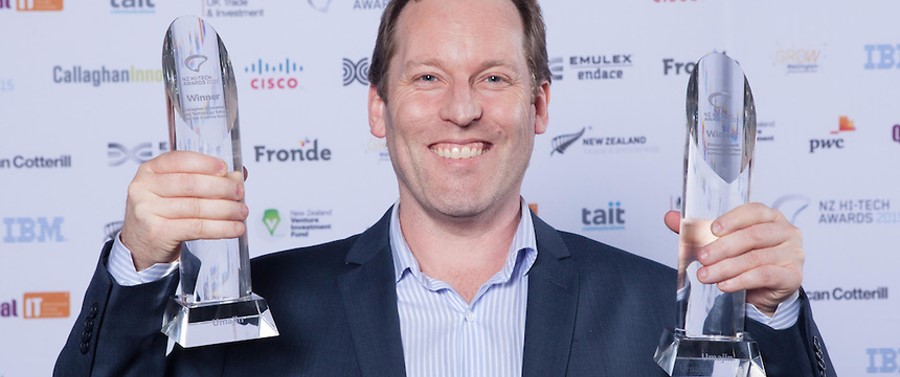 Judges for the awards included Apple co-founder Steve Wozniak, influential business strategist Gary Hamel, Google director of engineering New York Craig Nevill-Manning, Managing director for IDG ventures Pat Kenealy, Cisco SVP Howard Charney, CMO for Xero Andy Lark and the founder of massive Claudia Batten.
The judges remarked, "Umajin has drawn on 20 years engineering, gaming design and app development expertise to create a globally unique platform for designing and publishing beautiful and user friendly apps without requirement for coding. Their editor tool has attracted an impressive list of customers and partners including Intel, IBM and leading global agency group WPP."
About Umajin
Umajin delivers the first code-free, native app publishing platform for designers. Powered by a robust gaming engine, its professional editor and pre-built device features enables companies to rapidly create stunning, interactive apps, without IT resources. Umajin's build-once and run across iOS, Android, Blackberry and Windows devices, coupled with their ability to publish to app stores or to private devices makes it easier and faster than ever to engage customers on the go.
About the Hi-Tech awards
The NZ Hi-Tech Awards celebrate New Zealand's most successful high-tech companies and highest achieving individuals. They recognise the best all of our technology industries: ICT, electronics, software, biotechnology, creative, telecommunications and digital media.